A-Z Listing of our Chemical Reports
Follow @Chemagility
Please find below an A-Z listing of all our currently available reports. These include both Chemagility publications on chemical distribution markets worldwide along with related reports on the wider chemical industry and end use markets from our publishing partners: Global Business Reports (GBR) and CCM International.
Chemagility Reports
Partner Reports
Note
All reports are available in PDF format and can be downloaded from our website on completion of purchase. If you wish to purchase printed versions of any of the reports then please contact us for further details and pricing.
For free reports we ask you to supply your credentials to help prevent exploitation by automated bots as well as helping us to identify areas of interest which may help us with the development of future reports.
Further Information
Please contact us on +44 (0)1420 476191 (sales) or +44 (0)1420 520393 (general).
Lines open: GMT 8.30am - 6.00pm Monday to Friday.
Upcoming Reports
UK Chemical Distribution Report 2015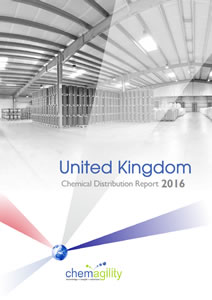 Chemical distribution data and analysis at your fingertips…