National Chemical Co. Ltd
Profile
Products & Markets
About National Chemical Co. Ltd
Key Facts
| | |
| --- | --- |
| Founded | 1969 |
| Enterprize Class | Alliance Member |
| Distributor Type | Specialty |
| Ownership | Private |
| Association | Irish Association of Chemicals & Ingredients |
| CEO/Key Contact | Mr Alan Looney |
National Chemical Company (NCC) is Ireland's leading independent chemicals, food and plastics raw materials distributor serving the entire manufacturing spectrum. We are a privately owned Irish company with our head office in Dublin, which was founded in 1969 by Denis Looney. Today we have an annual turnover of almost 30 million euro and a fulltime staff of 24. We have a UK subsidiary Natchemco UK Limited, with an additional 1 member of staff. We have a 50% interest in our JV plastics manufacturing company, Innovative Polymer Compounds, located in Central Ireland.
We market our products in the Republic of Ireland and Northern Ireland and the whole of the UK.
We are a founding member of the European alliance of independent distributors, PlusChem, which gives us the ability to offer pan European coverage as a group to those looking for a new channel to market and the sourcing expertise of the entire group.
We pride ourselves on our impressive portfolio of principals. We represent many of our principals on an exclusive basis thus ensuring our customers of security, traceability and quality of supply. We have an unparalleled experience in sourcing materials of all complexities from European and Asian sources.
So, if you are a chemical producer seeking a distributor to market your products in either Ireland or the UK, we would certainly like to hear from you.
Facilities
We have storage facilities in Dublin, Cork and Belfast in Ireland, and in Rugby in the United Kindgom.
Regional Coverage

Ireland

United Kingdom

United States
Affiliations & Accreditations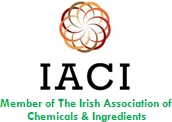 ISO9001
ESAD
II
RESPONSIBLECARE
Products
Amines
Thiochemicals
Hydrazines
PVC resin/compounds
Polymers
Polyamide
Nylon
TPE's
EPDM
Plasticisers
Glycols
Solvents
Fumed Silicas
metal oxides
Acetonitrile
Citric acid & citrates
Phosphates
Titanium dioxide
Bromine derivatives
Silica gels
Molecular sieves
Stearates
Fatty acids
Activated carbon
Inorganics
Fine chemicals
Intermediates
Excipients.
Suppliers
Arkema
Avebe
Dow Haltermann
ExxonMobil Chemical
Faci
Fulltime, China
Imperial, Taiwen
INEOS Phenol
Jubilant, India
LyondellBasell
Paushak, India
Sanmar, India
Syskem, Sweden
Tereos Syral
W R Grace
Markets
Adhesives, Sealants & Mastics
Agriculture
Coatings
Food & Nutrition
Home Care
Industrial & Institutional
Laboratory Reagents
Personal Care
Pharmaceuticals & Health
Plastics
Rubber