Restricted Access
Your free access is restricted to 30% of the total chemical distributors listed in the Directory. To view 100% of the total chemical distributors listed and also search by industry sector, upgrade to a Premium subscription here.

Sweden
Number of chemical distributors = n/a - Premium subscribers only
Distributors A-Z
Facts & Figures
Reports
Company
Enterprize Class
Distributor Type
Company Size
Further Info
A-Z DISTRIBUTORS:

Kemi-Intressen AB

171 54 Solna, Sweden
Multinational
Specialty
PREMIUM*
Subsidiary of a multinational group. See the profile for the group company...view profile »
Tel: +46 8 629 63 30, Fax: +46 8 629 63 35
www.kemiintressen.se

Kavat Kosmetikutveckling AB

S 421 30 Västra Frölunda, Sweden
Independent
Specialty
PREMIUM*
Tel: +46 31 91 46 10, Fax: +46 31 91 46 12
www: Premium subscribers only

Kvarnby Trading AB

211 45 Malmö, Sweden
Independent
Specialty
PREMIUM*
Tel: +46 40 354 886, Fax: +46 40 611 0210
www: Premium subscribers only
Chemical Distributors – Sweden. © Chemagility Limited. All Rights Reserved 2019.
PREMIUM* = Data available to premium Subscribers only
Swedish chemical distribution market
Facts and figures on the Swedish chemical distribution market is only available to PREMIUM users.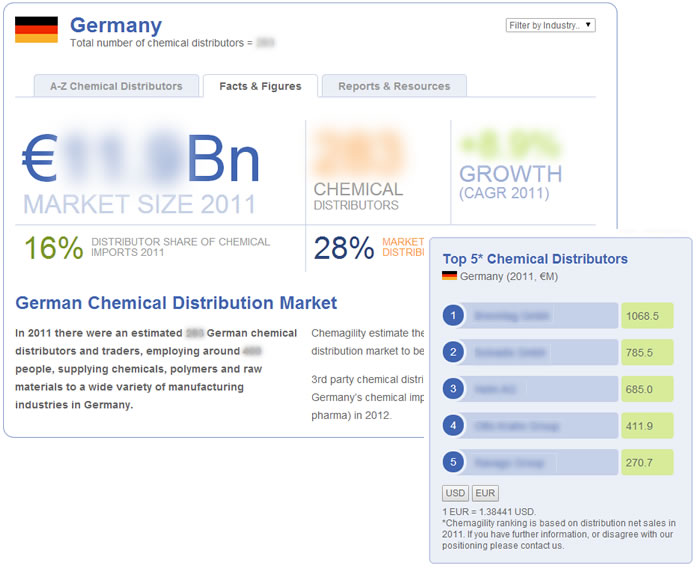 Benefits of a PREMIUM subscription
PREMIUM subscribers enjoy a large number of benefits not available to basic users including:
Information related to the chemical distribution market in each country including market size/growth, Top 5 chemical distributors and an analysis of the numbers/types of distributors in each region.
Access company financials, key director contacts, ownership/shareholder data and other important information on chemical distributors listed in the directory.
Mergers and Acquisitions - access our Chemical Distributor M&A Database with transaction details and analysis dating back to 2000.
Gain full search functionality to our chemical distributor news archive back to 2008. The only source of dediciated news on the industry you'll ever need.
For further information about or enquiries about PREMIUM access please contact us.
No reports available
At this current time Chemagility and our partner network haven't yet published any chemical or industry reports related to this region. Please check back from time as we are continually adding new material to the directory. In the meantime if you have any specific information requirement that you would like to discuss with us please contact us.