Restricted Access
Your free access is restricted to 30% of the total chemical distributors listed in the Directory. To view 100% of the total chemical distributors listed and also search by industry sector, upgrade to a Premium subscription here.

Ireland
Number of chemical distributors = n/a - Premium subscribers only
Distributors A-Z
Facts & Figures
Reports
Company
Enterprize Class
Distributor Type
Company Size
Further Info
A-Z DISTRIBUTORS:

Chemlink Specialities Ltd

Manchester, United Kingdom
Independent
Specialty
PREMIUM*
Chemlink is a dynamic company offering an application and formulation led approach to chemical distribution. Supported by a comprehensive range of products supplied from quality man...view profile »
Tel: +44 (0) 161 629 2129, Fax: +44 (0) 161 629 2128
www.chemlink.co.uk

Carbon Chemicals (Group) Ltd

Ringaskiddy, Ireland
Independent
Commodity
PREMIUM*
Tel: +353 21 4378 988, Fax:
www: Premium subscribers only

Charles Tennant & Co. Ireland Ltd

Dublin 24, Ireland
Independent
Full Line
PREMIUM*
Tel: +353 (0) 1 4514099, Fax: +353 (0) 1 4514702
www: Premium subscribers only

Chemtek Sales Ltd

Malahide, Ireland
Independent
Specialty
PREMIUM*
Tel: +353 1 8453763, Fax: +353 1 8453172
www: Premium subscribers only
Chemical Distributors – Ireland. © Chemagility Limited. All Rights Reserved 2018.
PREMIUM* = Data available to premium Subscribers only
Irish chemical distribution market
Facts and figures on the Irish chemical distribution market is only available to PREMIUM users.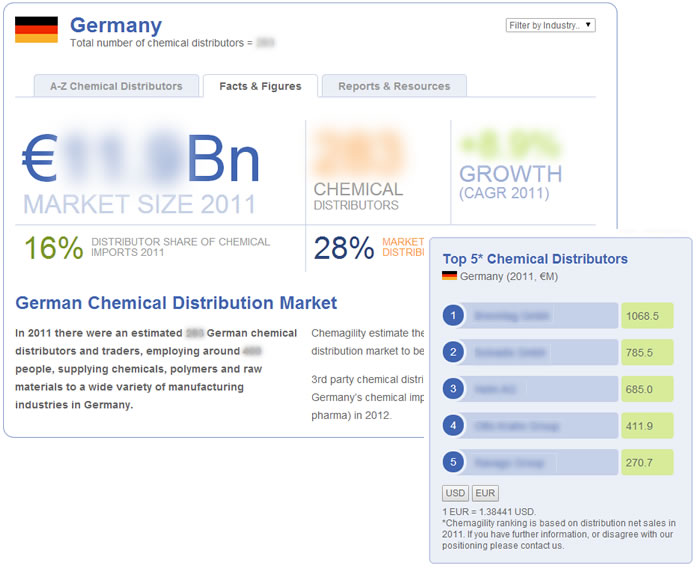 Benefits of a PREMIUM subscription
PREMIUM subscribers enjoy a large number of benefits not available to basic users including:
Information related to the chemical distribution market in each country including market size/growth, Top 5 chemical distributors and an analysis of the numbers/types of distributors in each region.
Access company financials, key director contacts, ownership/shareholder data and other important information on chemical distributors listed in the directory.
Mergers and Acquisitions - access our Chemical Distributor M&A Database with transaction details and analysis dating back to 2000.
Gain full search functionality to our chemical distributor news archive back to 2008. The only source of dediciated news on the industry you'll ever need.
For further information about or enquiries about PREMIUM access please contact us.
No reports available
At this current time Chemagility and our partner network haven't yet published any chemical or industry reports related to this region. Please check back from time as we are continually adding new material to the directory. In the meantime if you have any specific information requirement that you would like to discuss with us please contact us.