PREMIUM Subscription
Follow @Chemagility
PREMIUM is Chemagility's new, online service providing access to detailed intelligence on chemical distributors and chemical distribution markets around the World.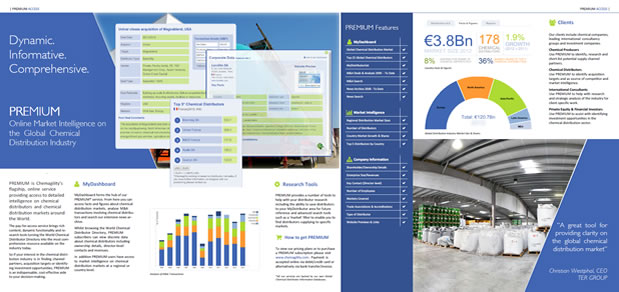 If your interest in the chemical distribution industry is in finding channel partners, acquisition targets or identifying investment opportunities, then PREMIUM is an indispensable, cost-effective aide to your decision-making.
The pay-for-access service brings rich content, dynamic functionality and research tools turning the World Chemical Distributor Directory into the most comprehensive resource available on the industry today.
Clients
Our clients include chemical companies (both producers and distributors), leading international consultancies and private equity and investment companies.
Pricing
The price for a single PREMIUM subscription is currently EUR 80/month or USD 105/month or GBP 62.5/month at current exchange rates. For multiple-user or enterprize-wide access please contact us.
Payment is accepted online via debit/credit card or alternatively via bank transfer/invoice.
SIGN UP NOW
Please Note
**The price of €80/month (£62.5 or $105) is based on a 12 month contract price payable annually. This can be paid on-line via Paypal or alternatively by invoice. Please note if you pay by invoice then payment has to be received by our Bank before your subscription can be activated. For more infomation please contact us.
Further Information
Please contact us on +44 (0)1420 476191 (sales) or +44 (0)1420 520393 (general).
Lines open: GMT 8.30am - 6.00pm Monday to Friday.
Contact
Chemagility Ltd
3000 Cathedral Hill
Guildford
Surrey
GU2 7YB
United Kingdom
Sales: +44 (0)1420 476191
General: +44 (0)1420 520393
support@chemagility.com